The Lenten season draws to an end with Holy Week, the final week before Easter. Making Holy Week memorable, as well as educational, is the thought behind this meditations book idea.
The cover and pages give the student an opportunity to personalize their booklet, while the Bible readings help them to think more deeply about the suffering and death of Jesus. The ruled, blank area of the pages is for jotting down the thoughts or prayers of the individual.
Supplies:
Construction paper
Colored pencils
Paper Punch
Cord or Yarn
Booklet Cover (Pattern)
Bible Readings (Page 1)
Bible Readings (Page 2)
Bible Readings (Page 3)
Bible Readings (Page 4)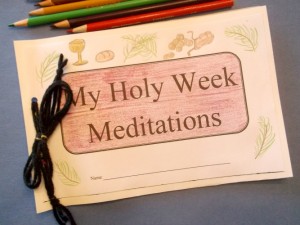 Directions:
Print the Booklet cover and bible readings pages. (You may want to "white out" the writing on the page 4 copy before printing. Write "page 4 top" on the right side edge, so it doesn't show when putting the booklet together.)
If you want the pages of your booklet to have printing on both sides of the page, first print page 1, and then print page 2 on the reverse side. The same is done with pages 3 and 4. Cut the page in half at the center line.
My booklet is put together with the pages in this order: Palm Sunday, The Last Supper, Betrayal by Judas, Agony in the Garden, Crowning with Thorns, The Death of Jesus, The Burial of Jesus, Easter Sunday.

Place the pages inside the booklet covers, use a paper punch to make holes through all layers of pages, and use a double strand of cord or yarn to tie the booklet together.
Decorate around the edges of the pages with Lenten symbols, flowers, or whatever the individual wishes.
Easter Projects Gallery: